In that weird mythical realm where, apparently, 'content is king', I find myself wondering where internal content fits in.
Surely, internal policies, guidelines and style guides aren't anywhere near the throne. That's too glamorous, reserved for the shiny marketing content and viral videos.
No, in most organisations, internal content is the withered old sage: very knowledgeable but not particularly coherent or easy to track down – only to be consulted if absolutely necessary.
It doesn't have to be that way.
Internal content is often neglected, but it's far from useless. Despite what years of bad content might lead us to believe, there is another way.
In this post I'll take inspiration from some of the world's most forward thinking organisations to look at how internal content can be excellent.
Be clear, concise and address people like people
This has made a lot of progress in recent years, notably by Gov.uk and their efforts to write in plain English. 'People don't want to interact with us as a hobby, but because they have to'.
It's a point that has been repeated but it's often neglected in internal communications. It seems like organisations are happy to make sure that their external facing content is clear and engaging, but throw it out of the window when it comes to internal publications.
Take the extract below, pulled from a large organisation's internal guidelines:
"Flexitime enables staff to alter their starting and finishing times within certain limits, in order to balance operational needs with personal and domestic circumstances".
I think they want to say:
"Flexitime means that you can work at the times that suit you best."
If a lumbering beast like the UK Government can make their content clear to understand, then I'm sure that even the most behemothic of organisations shouldn't find this impossible.
A lovely example of this is The Economist's style guide. The author of the guide addresses their colleagues with respect; gives clear, direct instructions and sprinkles the article with subtle humour.
Hemingway app is also a great tool to help out with keeping writing simple. Either to use as a guide for your own writing, or to convince writers/stakeholders that their copy really is too verbose.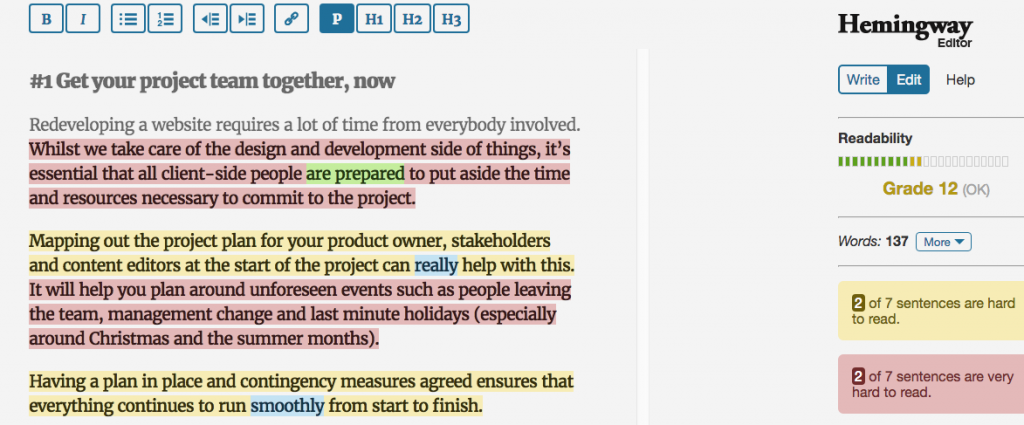 Put it in context
When writing for internal documents, it's easy to lose focus on the end goal. Whilst your reader will probably be a company employee, the task that you are helping them achieve might involve a customer, client or other members of staff.
MailChimp's guidelines do a really good job at framing the information in a context that puts the end user at the centre of the guidance. The question and answer format ensures that staff are always thinking about the customer when doing their work, with these mini persona like conversations happening on every page.
Structure content elegantly
Your internal content is full of good information, there's no doubt about that. The trick is to write, structure and maintain it in such a way that it remains useful, relevant and easy to find.
Having a good platform to do this is half the battle. (That's where Twine comes in).
Traditionally enterprise software is pretty horrible, seemingly ten years behind the consumer world. Twine changes this and provides a consumer grade experience to an enterprise problem. A beautiful knowledge library and collaborative tools that integrate with your existing systems.
Three tips we give out:
Make it searchable
Avoid PDFs as much as possible
Have a great user experience
See our last post, 4 tips for structuring your intranet content, for a bit more detail on structuring your content.
Internal content can be useful and accessible, really. For a free demo of Twine, head to our signup page – it only takes two ticks.